People You Should Know: Emma Hanigan
IAA would like to help you get to know some of the important people involved in Iowa forestry. The "People You Should Know" feature highlights a person we think you should know if you are interested in the trees of Iowa.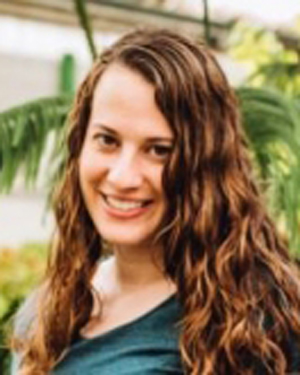 Urban Forestry Coordinator, Iowa Department of Natural Resources, Forestry
1. You currently work for the DNR as the Urban Forestry Coordinator. How long have you been there? What did you do before that? Why did you choose this career path?
I have been with the Department of Natural Resources for 10 years, the first 2 years I work on the Operation ReLeaf Residential tree distributions and Trees for Kids grant program before becoming the Urban Forestry Coordinator. While studying Urban Forestry at Iowa State I knew I had an interest specifically in government sector, however I was not sure if I would be lead to a municipal, state or federal career path.
2. What are some of your favorite aspects about this job? 
I feel very fortunate working in Iowa for several reasons. The first would be the people. While trees are sometimes looked at as finical burden for cities, in general most of the people I work with have a personal connection with trees and know the importance that they provide communities. My favorite part is meeting with small communities and helping them work through some of the challenges to see these rewards of healthy and productive urban forests. In Iowa with our low tree canopy, we have a lot of opportunity to make positive change.
3. Since you have been in this position have you noticed any trends in urban forestry? 
Iowa is losing about a third of a percent of urban forest canopy a year, which is a lot when you are at about 18.5% canopy cover. Also, we continue to plant monocultures of what is fast growing and readily available, rather than diversifying our tree investments.
4. To what do you attribute those trends? 
The compounded issue of less planting (banning right-of-way planting and less interest in planting in our own yards) and pest and disease issues will continue this trend. To change these trends we need to care for existing trees while planting a diverse tree population on both public and private lands.
5. What are the major challenges facing municipalities in Iowa with regard to their urban tree canopy? Are there any areas in Arboriculture that you think we need to focus more of our time on? I.e. tree id, planting practices etc.
Funding is our biggest threat. While we are immersed in insect and disease threats, we can overcome those issues with the adequate support. This support could come in the means of funding a city forester, volunteers taking the time to plant and care for young trees, or just city support for forestry practices. I think if we spend more time discussing trees as an investment in infrastructure we will have the urban forests Iowan's need. This means we need to put in time early in a trees life to make it successful and continue to care for it along the way. If this is done it will pay the next generation back with prolific benefits.
6. What tree or trees would you like to see being planted more often? What is your favorite tree?
I change favorite trees about every year or two, which is fitting for an urban forester. The prefect tree is the one your neighbor doesn't have and that maximizes benefits on you particular site. We are lucky to have some many choices and we should take full advantage of those choices, not only for pest and disease, but to have ample benefits and prolonged spring and fall enjoyment.
7. What advice do you have for people who want to get into the tree industry or even for those who are already here?
Keep reminders of your passion. All task, job, careers have ups and down and it will take that passion to continue to make change.
8. What tree related question do you get asked most often?
What is wrong with my tree?
9. What is something you think everybody involved with trees should know?
Trees in a forest help each other rather than compete. We are all more interconnected than we think.
10. We ask everybody this question; do you have any favorite books or resources that you would recommend or rely on the most?
I like a good Michael Dirr or Ed Gilman book, but my most used resources are websites. I use the research and tools in the iTree suite the most, followed by US Forest Service publications and research. I would say my next most important resource is the experience of other states and partners.